See the impact of your donation on the actual recipient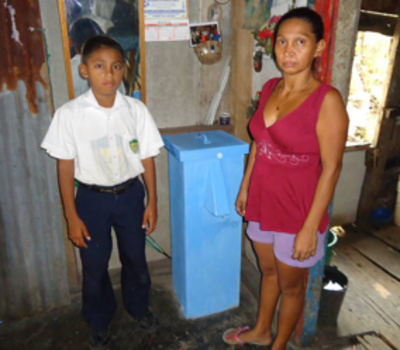 Lesley
gave a bio-sand water filter
Agripina no longer has to walk miles for clean water!
Agripina lives in Bluefields, Nicaragua with her two sons, aged 11 and 16. Her neighborhood faces serious water issues and Agripina spends a large percentage of her time and monthly income finding safe, reliable water sources for her family. Agripina does have a well in her backyard but this water is ...
read more
Edwin's grandchildren no longer complain about diarrhea
Mara\'s family is happier and healthier!

Wells Trust
gave a bio-sand water filter
Aleyda's family and neighbors benefit from water filter!
Maria Aguirre's household now understands the benefit of clean water
Indira's daughters are no longer getting sick from drinking dirty water

David
gave a bio-sand water filter
A New Filter Provides Fresh Drinking Water and Lowers the Monthly Costs for this Family of Eight

Nick
gave a bio-sand water filter
A simple solution provides Cindy and her family with clean drinking water
Gilma's New Stove Allows her to Save Money and Invest in New Business Opportunities!

and 2 others gave a donation toward a new cook stove
A new cook stove increases production and income
Nereida and her family now have safe drinking water

Gina
and 2 others gave a share of a bio-sand water filter
Maria and her family no longer contaminated drinking contaminated water
A More Efficient Stove Creates Huge Savings for Agripina and her Family!
Yervi's daughters can now drink healthy water
Pearl and her family have a solution to their water problem and are saving money

Ryan
and gave a share of a bio-sand water filter
New water filter is a blessing!
Tell us why you this cause!